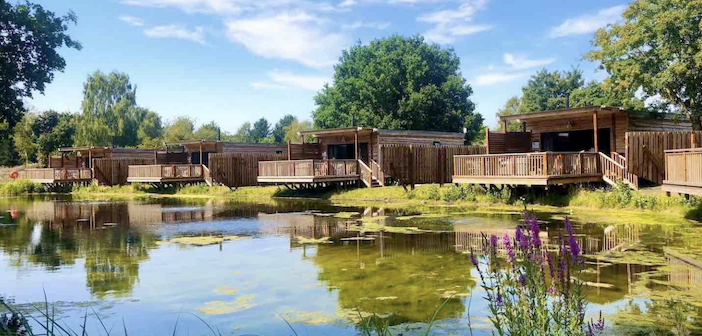 BY JESSICA BALDWIN ON DECEMBER 10, 2022
Stood atop the ancient walls of William the Conqueror's beloved Lincoln Castle, I feel a tad befuddled. No amount of gawping at the gothic spires of the city's cathedral, once the tallest building in the world, can bring me round. Granted, the audible rumbling of the dragon which slumbers beneath me (presumably guarding the castle's original 1215 Magna Carta), isn't helping my state of mind. But it isn't mythical creatures which are troubling me.
As I watch the light dance across the cathedral's stained-glass windows, I understand why Ruskin declared it 'the most precious piece of architecture in the British Isles'. What I cannot fathom, is why I've never visited it before. I'm ashamed to say, that despite hailing from neighbouring Norfolk, Lincolnshire has never entered my consciousness, let alone my travel plans. Yet, this tabular land, carpeted in crops and overshadowed by hypnotically big skies, feels strangely familiar to a Norfolk lass.
In my defence, I'm not the only one that missed the memo. Blank, is the only way to describe the faces which stared back at me each time I declared that I was off to Lincolnshire – that vacant, yet polite nod of the head people get when they say they work in project management, or spend their weekends dowsing. I can't blame them, other than cracking sausages I had no idea what to expect from this enormous county, which despite dwarfing almost everywhere else UK, rarely pops up in conversations, let alone in guide books. If Kent is England's garden, then Lincolnshire is its vegetable patch, and as a result, its fertile plains get more coverage in grocery aisles, than travel sections. Its lack of column inches seems ironic, given that its rolling Wolds bred and inspired one of England's finest poets, the Victorian Laureate, Tennyson.
Feeling a little foolish in my ignorance, I clamber down the 11th century battlements, leaving 'Lucy the Dragon' to snooze on. I slalom my way through an artisan market, where mountains of palm-size cheeses waxed every colour of the rainbow jostle with neat rows of 'bomber county' ale and freshly baked plum loaves. Like marching ants, cherry-cheeked shoppers flock down quaint Steep Hill, where tiny Norman houses now host a tumble of independent cafes, boutiques and restaurants which cascade their way towards commercial Lincoln. Not ready to burst this sepia-tinged bubble of yesteryear, we flee, through the city's iconic 3rd century arch, to another Lincolnshire gem: Bainland Lodge Retreats.
Hidden within the hinterland, between the pancake flat fens and the undulating Lincolnshire Wolds (an Area of Outstanding National Beauty,) this outdoorsy family-run country retreat has an impressive selection of luxe lodges, of all shapes and sizes, nestled within its 45-acre estate. At one end of the spectrum, their sweet Shepherd's Hut and lakeside Treehouse attract couples after romantic breaks spent hiking, feasting and exploring the stately homes and ancient castles which speckle the landscape beyond. At the other end, their vast 'English Garden Villa' is hard to beat when it comes to a luxurious group retreat on home turf.
The enormous horseshoe shaped property accommodates up to 24-guests, in 12 en-suite bedrooms. Hidden at its heart, is a private courtyard, home to two Villeroy & Boch hot tubs, endless sun loungers and a pristine all-weather 10-metre heated pool. Despite looking like a strong contender for a Love Island pad, surrounded by big skies and ancient woodland, and with a strict 10pm noise cap, the lavish hideaway attracts groups of friends content with hot tub chit chat, private-chef experiences and good clean country fun – and, I am reliably informed, a steady stream of pet micro pigs (a bold, if not a slightly short-sighted packing decision, given the county's reputation for award-winning sausages!).
With private chefs available on request and homecooked meals delivered straight to your door at the tap of a button, you needn't leave your villa at all. But, for those after a change of scene, Bainland's restaurant, The Nest, serves an eclectic all day menu which takes you from morning coffee to evening cocktails. Having only been open a few months, the stylish restaurant certainly looks the part and overlooking the epic woodland playground, the well-appointed heated terrace is perfect for families.
Alas, my Love Island days are gone and my stay at Bainland was en famille, to check out their newest accommodation, The Orchard. Our home for the weekend boasted four en-suite bedrooms, a light and bright open-plan living area and an enclosed private garden, with a decked dining area and two hot tubs to boot. If it felt like a lodge walking in, it certainly felt like a home walking out, with each of us quickly finding our own little nook. Whilst the children played in the enclosed garden and competed for a turn on the retro games machine, my other half remained firmly glued to the velvet sofa, meticulously reading all of the books he never usually has time to open.
I, on the other hand, spent my days dipping in and out (and in, again) of the property's steaming hot tubs. Controversially, my first soak of the day would commence at 5am, beneath a blanket of stars strewn across the darkest of skies, with just the moon, Jupiter and an owl for company. Watching the bellowing steam cartwheel into the frosty sky, I savoured the calm before the storm, for soon enough the pitter patter of tiny feet would come, and with them, a torrent of adrenaline-driven demands, for everything from archery sessions and trips to the adventure playground to alpaca-petting and street carting – all of which was just steps from our abode.
Once coaxed out of my watery lair, most of our days on dry land were spent dipping in and out of Bainland's extensive activities. When we weren't rock climbing, swimming or racing mini–Land Rovers, we were exploring the nearby villages and towns and the rambling footpaths which connect them. From Bainland, it's just a short stroll to reach the 'Spa Trail'; a former railway line, now peppered with grazing sheep and giant botanical sculptures, connecting the pretty village of Woodhall Spa, with the attractive market town of Horncastle. This arty track is just a tiny slither of the 174-mile Viking Way footpath, which knits the banks of the River Humber to historic Lincoln and beyond, via rolling Wolds, lush valleys and seemingly never ending fenland.
Once home to the iconic 617 Dambusters, the smart former spa town of Woodhall Spa is a bustling throwback of a village, with a thriving parade of proudly independent stores. Here, pastel-hued meringues the size of melons fill fancy deli counters and steamy cafe windows veil the 'Yellowbelly' (as the locals call themselves) chats within. A stone's throw from the village's quaint Cottage Museum and much-visited war memorials, is nostalgic Kinema in the Woods; the UK's last remaining full-time back-projection cinema. Resplendent in its retro décor and traditional ways it's surrounded by towering pines has an impressive film slate with live organ performances and interval ice cream for good measure! Nearby, the cobbled streets of handsome Horncastle, which dates back to Roman times (check the ruins which hide within the library, if you need proof), are a heady mix of smart antique shops, sweet galleries and an endless parade of excitable ducks – on our visit, at least.
For those keen to deep dive into the region's history, Lincoln's Cathedral Quarter is a must – expect dungeons, dragons and one of the most spectacular medieval cathedrals in Europe. Lincolnshire's vast and varied coast is also just a 45-minute drive from Bainland. Forget what you think you know about this stretch of coast, swerve Skeggy and the more built-up resorts and you will discover miles of saltmarshes, protected nature reserves and empty sand dunes.
It's ironic that Lincolnshire had never crossed my mind before this trip. Since leaving, I think of it often. I find my mind wandering to those vast, ever-changing skies and all of the places beneath them which I didn't have time to discover. About the villages, folded deep within the sloping valleys of the Wolds and the bustling market towns, surrounded by fenny flats and salty marshes. My taste buds tingle when I think of the local delicacies that I didn't get to taste; from current-laden plum loaf topped with creamy Lincolnshire Poacher, to herb-packed 'chine'. But most of all, I think of those Lincolnshire moments which I did experience…the pre-dawn bubbling beneath blankets of stars and walking in the footsteps of Kings and criminals, atop ancient castle walls. As I plough on back home, with the weekly shop and frosty school runs, these moments seem far away. Hey-ho, as a wise local once said, "it is better to have loved and lost, than never to have loved at all".
Bainland Lodge Retreats is a collection of luxury self-catering properties within 45 acres on the edge of woodlands just outside Woodhall Spa, a former spa town on the southern edge of the Lincolnshire Wolds. Rates for The Orchard – a family-friendly, dog-friendly, four-bedroom lodge – start from £899 for a 4-night stay. To find out more and to book visit www.bainland.co.uk or call 01526 352903.